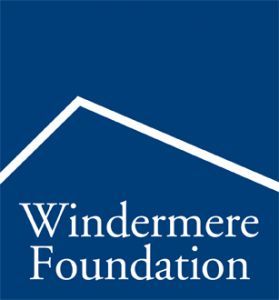 The Windermere Foundation was started in 1989 by the owners of Windermere Real Estate, which is based in Seattle. Since its inception, the Foundation has raised more than $33 million to support it's mission: helping low income and homeless families.
The Foundation began in Washington, but now has grown to serve the 10 western states. Currently, there are more than 40 major organizations that receive significant funding from the Foundation. These organizations provide emergency assistance, and youth and children's programs.
As part of the Windermere organization, each of our brokers donates a portion of their commission from every transaction to the Windermere Foundation. Each of us is proud to support the Foundation. A portion of the funds that we donate comes back to our office to enable us to donate directly to local organizations within our community that support the same cause as the Windermere Foundation: helping local families right here on Orcas.
We have a local Foundation Representative, Elyse Van den Bosch, who works directly with the local non-profits to assist in their applications for funding. We have supported organizations such as the Funhouse, Orcas Family Connections, OPAL immediate housing needs, the Food Bank, and each of the various early childhood programs, to name just a few.
In addition to our broker commission donations, our office has also coordinated various fundraising and volunteer activities to raise additional money for our local non-profits that assist families and children in need.
Being a part of this community is very important to all of us. We take great pride in the fact that our office has put thousands of dollars back into our local community, and we look forward to continuing to do so. If you have questions about the Windermere Foundation, or whether your organization may be a candidate to receive funding from the Foundation, please contact Elyse for more information: elyse@windermere.com
John Dunning, Designated Broker/Owner
Most people think home-renovation projects will always add value to a home, but this isn't necessarily true. According to Scott McGillivray, host of the HGTV series Income Property and author of How to Add Value to Your Home, these 7 renovations should never be done…
1. DO NOT expand your master bedroom if that means eliminating another bedroom. Small master bedrooms are a common complaint, particularly in older homes. But in many cases, the only realistic way to expand a master bedroom is to sacrifice one of the home's other bedrooms, which is likely to be a costly mistake. Fewer bedrooms equals fewer potential buyers.
2. DO NOT convert a garage into living space. Finishing a garage can seem like a cost-effective way to enlarge a home-it is significantly less expensive than having an addition built from scratch. Trouble is, many buyers will not even look at properties that do not have garages.
3. DO NOT add artistic flourishes or personal touches to the home itself. The smart way to add art and/or personality to a home is to hang art on its walls, not to alter the home in ways that can't be easily undone when it is time to sell, such as a mural painted on a wall or ceiling, a large masonry fountain in the yard, or a mosaic artwork incorporated into the tile in the kitchen or bathroom. Buyers want a home to be a blank slate for them to fill, not a reflection of a prior owner's tastes.
4. DO NOT paint interior walls dark colors. Dark interior walls have become a trend – decorators will tell you that they can make rooms feel cozy and ¬elegant. But many home buyers think "small and unwelcoming" when they walk into a dark-walled room. Light-colored walls might not be trendy, but they make spaces feel larger and friendlier, which buyers value more than -stylishness.
5. DO NOT attempt do-it-yourself home repairs if the result will look like ¬do-it-yourself repairs. Home owners who have the skills to do basic home repairs can save themselves thousands of dollars over the years. But when home buyers (or home inspectors) see evidence of do-it-yourself work, they often start to worry about what else the home owner might have done on his/her own that isn't so evident-such as electrical and -plumbing work or foundation work-and whether this work was done properly. Potential buyers feel much more confident when it appears that a home has been professionally maintained.
6. DO NOT texture interior walls and ceilings. Drywall compound can add texture to interior walls and ceilings, resulting in a stucco look. This textured look goes in and out of style and might not be in vogue when you sell.
7. DO NOT install a chain-link fence in your front yard. These look low-end and unwelcoming, giving potential buyers a negative first impression of your home. If you must have a fence, it's worth paying extra for wood (or composite or vinyl fence designed to look like wood). These can cost twice as much as chain link, but they will not reduce the value of the home – a nice wood picket fence could even increase the value.