ECONOMIC OVERVIEW
The Washington State economy added 104,600 new jobs over the past 12 months. This impressive growth rate of 3.1% is well above the national rate of 1.4%. Interestingly, the slowdown we saw through most of the second half of the year reversed in the fall, and we actually saw more robust employment growth.
Growth continues to be broad-based, with expansion in all major job sectors other than aerospace due to a slowdown at Boeing.
With job creation, the state unemployment rate stands at 4.5%, essentially indicating that the state is close to full employment. Additionally, all counties contained within this report show unemployment rates below where they were a year ago.
I expect continued economic expansion in Washington State in 2018; however, we are likely to see a modest slowdown, which is to be expected at this stage in the business cycle.
HOME SALES ACTIVITY
There were 22,325 home sales during the final quarter of 2017. This is an increase of 3.7% over the same period in 2016.
Jefferson County saw sales rise the fastest relative to fourth quarter of 2016, with an impressive increase of 22.8%. Six other counties saw double-digit gains in sales. A lack of listings impacted King and Skagit Counties, where sales fell.
Housing inventory was down by 16.2% when compared to the fourth quarter of 2016, and down by 17.3% from last quarter. This isn't terribly surprising since we typically see a slowdown as we enter the winter months. Pending home sales rose by 4.1% over the third quarter of 2017, suggesting that closings in the first quarter of 2018 should be robust.
The takeaway from this data is that listings remain at very low levels and, unfortunately, I don't expect to see substantial increases in 2018. The region is likely to remain somewhat starved for inventory for the foreseeable future.
HOME PRICES
Because of low inventory in the fall of 2017, price growth was well above long-term averages across Western Washington. Year-over-year, average prices rose 12% to $466,726.
Economic vitality in the region is leading to a demand for housing that far exceeds supply. Given the relative lack of newly constructed homes—something that is unlikely to change any time soon—there will continue to be pressure on the resale market. This means home prices will rise at above-average rates in 2018.
Compared to the same period a year ago, price growth was most pronounced in Lewis County, where home prices were 18.8% higher than a year ago. Eleven additional counties experienced double-digit price growth as well.
Mortgage rates in the fourth quarter rose very modestly, but remained below the four percent barrier. Although I anticipate rates will rise in 2018, the pace will be modest. My current forecast predicts an average 30-year rate of 4.4% in 2018—still remarkably low when compared to historic averages.
DAYS ON MARKET
The average number of days it took to sell a home in the fourth quarter dropped by eight days, compared to the same quarter of 2016.
King County continues to be the tightest market in Western Washington, with homes taking an average of 21 days to sell. Every county in the region saw the length of time it took to sell a home either drop or remain static relative to the same period a year ago.
 Last quarter, it took an average of 50 days to sell a home. This is down from 58 days in the fourth quarter of 2016, but up by 7 days from the third quarter of 2017.
As mentioned earlier in this report, I expect inventory levels to rise modestly, which should lead to an increase in the average time it takes to sell a house. That said, with homes selling in less than two months on average, the market is nowhere near balanced.
CONCLUSIONS
This speedometer reflects the state of the region's housing market using housing inventory, price gains, home sales, interest rates, and larger economic factors. For the fourth quarter of 2017, I have left the needle at the same point as third quarter. Price growth remains robust even as sales activity slowed. 2018 is setting itself up to be another very good year for housing.
Matthew Gardner is the Chief Economist for Windermere Real Estate, specializing in residential market analysis, commercial/industrial market analysis, financial analysis, and land use and regional economics. He is the former Principal of Gardner Economics, and has more than 30 years of professional experience both in the U.S. and U.K.
Posted January 29 2018, 11:00 AM PST by Matthew Gardner, Chief Economist, Windermere Real Estate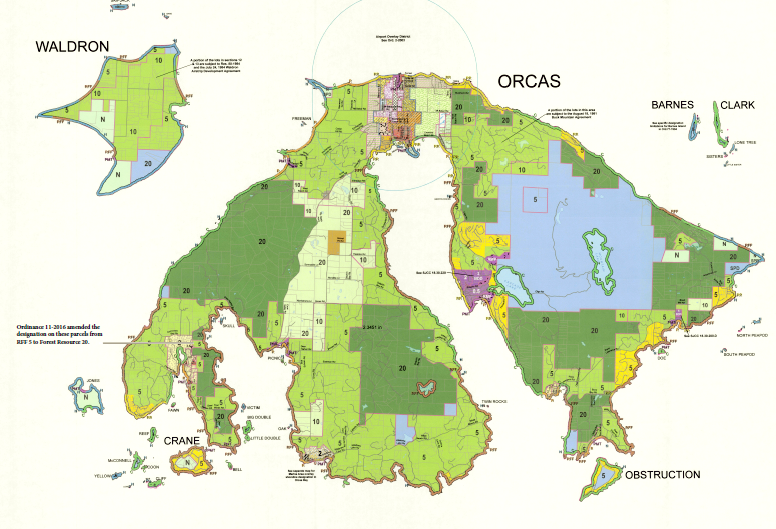 Approved on October 30, 2017.
The final amendments to the original 2016 Shoreline Master Plan have now been approved by the State Department of Ecology. Getting here has been years in the making, but it is finally done.
Historically, much of our waterfront has been zoned Rural, Rural Residential, Rural Farm Forest, Nature and Conservancy, among the most prominent designations. It appears, from the revised County zoning maps, that the percentage of shoreline now under the restrictive Conservancy zoning has been dramatically increased.
To explain, surrounding every island is a 200' shoreline zone that overlays every waterfront parcel of land. When I use the word "overlays", I mean that the 200' shoreline area may now be zoned differently than the upland portion of the same property. In the past, two zoning designations on a single parcel was uncommon.
The Conservancy zoning is intended to protect our shoreline ecology. It does this by limiting the uses permitted on lands of this zoning. Most uses other than single family dwellings are discouraged, including any commercial use, even vacation rental of shoreline homes.
I would encourage every shoreline property owner to look at the new shoreline zoning maps posted on the County's website. Do this by going to the Community Development Department at SanJuanco.com, pull up the "maps" section and click on the map of your island. Then view your shoreline designation, to verify if your property is one affected by zoning change.
A good outcome of the Master Plan seems to be that single family residential construction within the shoreline zone may be more broadly allowed than has been the case for the last 5 plus years. There seems to be more freedom to develop shoreline residential property. Of course there are definite limits to this freedom, as is always the case. The proof will be in how the new rules are interpreted by our County officials.
San Juan County's shoreline now meets State standards of protection against degrading and harming the shoreline environment. Only time will tell the full story. I plan updates on this issue as I learn more as to how it is being applied.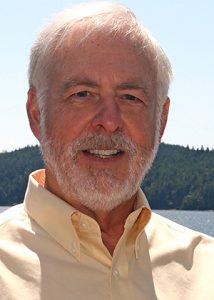 John Dunning, Designated Broker/Owner  
Posted on January 31, 2018 at 11:18 AM
Alysha Sherburne
Posted in
Uncategorized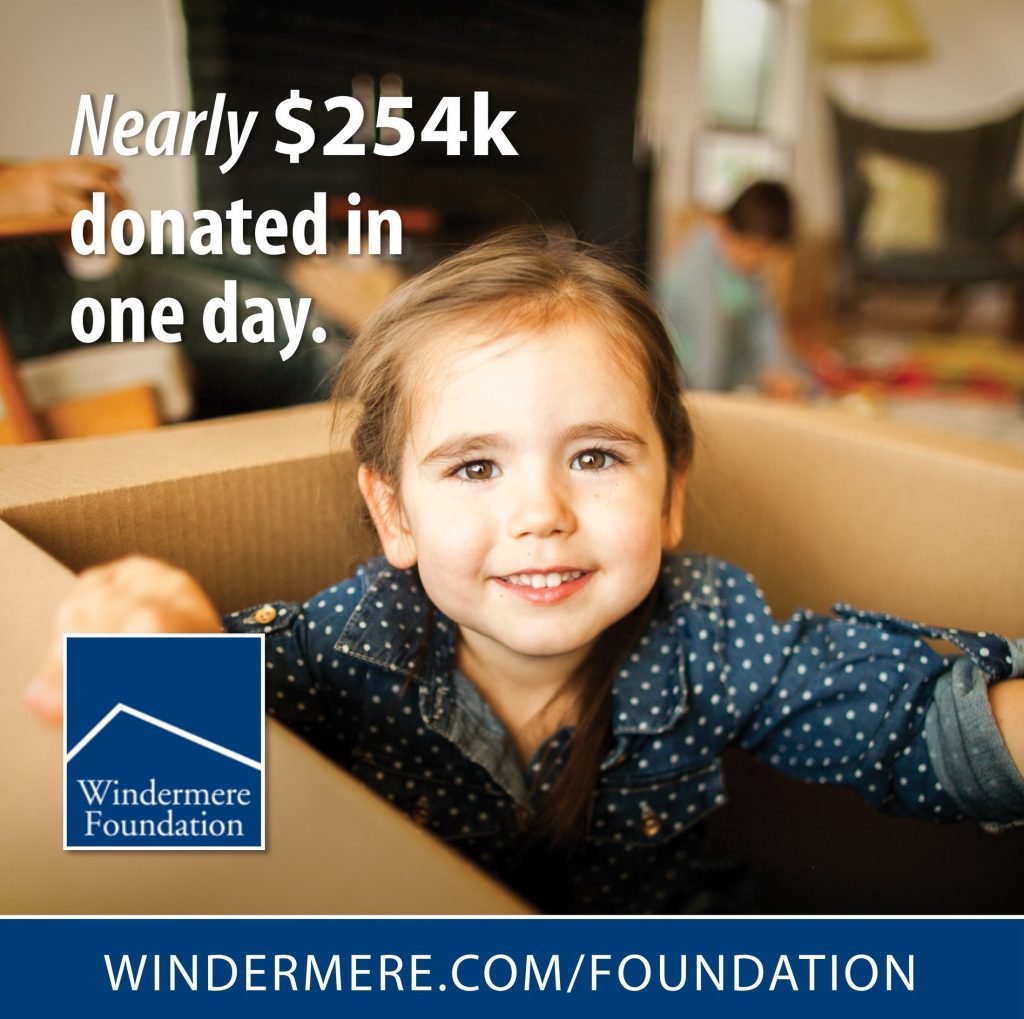 Every week, the Windermere Foundation disburses grants to support non-profit agencies dedicated to helping low-income and homeless families. On a given day, thousands of dollars' worth of grants can be issued. However, on one particular day, November 15 to be exact, an amazing thing happened…the Windermere Foundation disbursed nearly $254,000. This was a record day of giving for the Windermere Foundation!
A total of 35 non-profit organizations benefitted from the record-breaking $253,782 in donations that day. The largest beneficiary was Attain Housing in Kirkland, WA, which received $56,000. Their grant was funded by the Windermere Real Estate East, Inc. group of offices which are located east of Seattle in Bellevue, Redmond, Issaquah, and Kirkland. The funds will provide affordable housing to homeless families with children, as well as case management for setting financial and social goals.
Attain Housing helps homeless and at-risk families with children in King County to become stable and self-sufficient. Here's a story of one of their recent clients:
When Jeremy and Lisa entered into Attain Housing's program just five months ago, they had a lot of hurdles ahead of them. They were both only nineteen, had a newborn, had been homeless since they were fourteen, and had never experienced stability. As soon as they moved into one of Attain's transitional housing apartments and began working with their case manager, Jeremy started attending a skills training program. He has since earned his GED, acquired his driver's license, obtained a vehicle, and started full-time employment. Jeremy's family is on track to successfully complete the program by the end of their first year, but they already have plans to move into market rate housing within the next two to three months. This is success!
According to Kathy Fleming, Executive Director at Attain Housing, "The $56,000 gift from Windermere ensures that five families (including 15 children) will have safe housing and supportive services for an entire year. This is a significant gift and the largest grant that Attain Housing has received from any organization or company. Thank you!"
The Windermere Foundation is fortunate to have generous owners, agents and staff that contribute to their offices' Foundation fund pool. This pool of funds, combined with Windermere transaction donations, monies raised through Windermere office fundraising events, and donations from the public, allows the Windermere Foundation to disburse much-needed funding to local non-profits in the areas that our Windermere Real Estate offices serve.
If you'd like to help to help non-profits that provide services to low-income and homeless families in your area, please consider donating to the Windermere Foundation.
To learn more about the Windermere Foundation, visit http://www.windermere.com/foundation.
Posted December 4 2017, 1:35 PM PST by Marilou Ubungen @ Windermere Real Estate
Posted on December 6, 2017 at 3:13 PM
Windermere Orcas
Posted in
Uncategorized