Washington state's San Juan Islands tops new luxury homes index of biggest movers
BY KATHRYN HOPKINSORIGINALLY PUBLISHED ON OCTOBER 04, 2016|MANSION GLOBAL|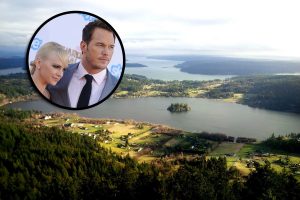 Residents of the San Juan Islands in Washington might soon spot a familiar face now that actor Chris Pratt is taking a six-month break from moviemaking to spend time in his home there with his wife, actress Anna Faris, and son.
However, locals probably won't even flinch at the celebrity sighting as they will long be used to rich and famous figures flocking to the archipelago off the coast of Seattle, enticed by the high level of privacy it offers.
"Top Gun" actor Tom Skerritt has a home on Lopez Island, while Bill Gates has one on Shaw Island and musician Steve Miller is selling his mansion on namesake San Juan Island for $16.8 million.
But while the archipelago has always attracted its fair share of well-known people, it is starting to heat up as a new playground for the wealthy thanks to Seattle's growing community of tech entrepreneurs, who like that it's a mere 40-minute seaplane ride away.
Perhaps this is why the San Juan Islands have topped Realtor.com's list, released Tuesday, of the 20 biggest movers in its Luxury Home Index (News Corp., which owns Mansion Global, also owns Realtor.com, the listing website of the National Association of Realtors).
It's based on the top 10% of sales by price and covers 277 counties across the U.S., looking at a number of measures including price growth, the speed at which a home is sold and the number of luxury homes on the market. The hottest luxury markets are identified as those that have moved up the fastest in the rankings since last year.
The archipelago has climbed  55 places from 107th last year to reach 52nd on the index, making it the biggest mover on Realtor.com's list. The average luxury sales price jumped from just over $1 million last year to $1.58 million this year.
Additionally there were 23 home sales closing at more than $1 million in the first six months of this year, doubling the number during the same period in 2015.
"One big difference between the Hamptons and the San Juan Islands is that these people come to the latter to disappear. You can be Bill Gates in flip flops and people won't bat an eyelid," Dean Jones, principal and owner of Realogics Sotheby's International Realty, told Mansion Global. "There's also the relative value proposition – homes here are currently much more attainable compared with our East Coast harbinger."
Recent restrictions placed on foreign buyers in nearby Vancouver and the fact that Washington state has no income tax has also played a part, with many high-net-worth individuals seeing the San Juan Islands as an attractive financial safe haven.
"Washington doesn't have a state income tax but California sure does. As a result, we're seeing a lot of buyers from California looking for homes in the San Juan Islands to spend six months and one day at, before they go back to their La Jolla mansions for the rest of the year," Mr. Jones added.
The San Juan Islands were followed by Clackamas in Oregon, which jumped 41 places from last year. The average luxury home sales price there has increased 10% from 2015 and 18% from 2013, reaching $631,000 for the first six months this year.
Large urban areas in California such as Napa near San Francisco, San Bernardino near Los Angeles and El Dorado near Sacramento also performed well. They've seen luxury home prices rise by 37%, 21% and 15% respectively.
"This year, the hottest markets moving up the ranks could be interpreted as aftershocks from what was a banner year for luxury in 2015, but also as spillover over demand from markets that remain hot," said Javier Vivas, manager of economic research at Realtor.com.
"Some of these hot locales are second-home markets luring wealthy buyers from nearby booming tech hubs like Denver, Seattle, and Bay Area;  others are alternate/suburban markets experiencing spillover demand from their respective adjacent markets like Boston, Portland and DC; while others are vacation home classics in the east and west coast experiencing accelerated growth such as selected places in Southwest Florida and the State of Hawaii."
TOP 10 BIGGEST MOVERS, 2015-2016
| County | Rank in 2015 | Rank in 2016 | Change of Rank |
| --- | --- | --- | --- |
| San Juan, WA | 107 | 52 | + 55 |
| Clackamas, OR | 111 | 70 | + 41 |
| San Bernardino, CA | 113 | 73 | + 40 |
| El Dorado, CA | 131 | 94 | + 37 |
| Martin, FL | 121 | 87 | + 34 |
| Sacramento, CA | 130 | 100 | + 30 |
| Falls Church City, VA | 109 | 92 | + 17 |
| Multnomah, OR | 90 | 74 | + 16 |
| Fairfield, CT | 56 | 41 | + 15 |
| Napa, CA | 64 | 50 | + 14 |
Source: Realtor.com Luxury Home Index