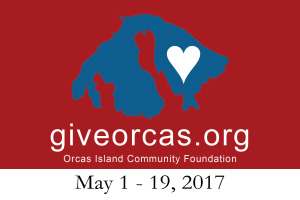 It's GiveOrcas month here on the island and everyone is feeling the love. Locals skip through the streets of Eastsound hugging, laughing, and catching up on the latest gossip. Okay, so maybe it's not quite as cheesy as one of those quaint villages from your childhood storybooks; life is not all sunshine and rainbows after all. But while there isn't a whole lot of skipping going on, the hugging, laughing, and gossiping are pretty on par. And this month in particular we are reminded of why we are so lucky to live here: we are a community that cares.
The GiveOrcas campaign is run by the Orcas Island Community Foundation (OICF), whose mission is "to foster philanthropy to enhance and preserve the quality of life on Orcas Island". They are a public foundation that fosters community collaboration in order to create a strong financial base for supporting local services and organizations. OICF's role has become increasingly important on this island which somehow supports a huge number of nonprofits – about 1 per 45 residents. This number may seem insane to some, or most of us, but it's important to remember that Orcas has no real form of government since there is no incorporated town. As such, these nonprofits help to fill the roles that would traditionally fall under a government's purview.
Now, what is this GiveOrcas campaign? Well, with all of these nonprofits it's to be expected that the Community Foundation receives a high number of requests for funding, and they simply do not have the capacity to cover the full needs of every organization. So yes, it is essentially a fundraiser. However, this particular fundraiser is as much about creating awareness as creating cash. For at the public's fingertips is placed an insight into what each organization is hoping to get funding for; whether it be a specific project, program, or for staffing needs. These needs are then arranged, by OICF, into three categories: Critical Needs, Important Needs, and Opportunities. This allows for members of the community to decide where they want their donated funds to go, based on their own individual ideals. And, given that Orcas is a community that likes to support one another, most of these needs are met during this time.
The GiveOrcas campaign runs through May 19th this year with an Awards Celebration being held on Thursday, May 25th from 3-5pm at the Orcas Center.
__________________________________________________________________________________________
Find out more about the GiveOrcas campaign and the projects looking for funding at www.giveorcas.org
To learn more about the Orcas Island Community Foundation and see of list of Orcas Island nonprofits and services, visit oicf.us