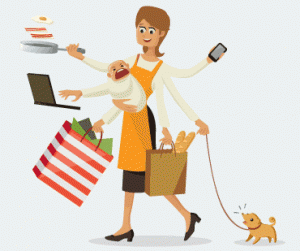 We made it past July 5th and summer is in full swing here in the Pacific Northwest! For many of us, this is the time when we not only get out of the house, but get out of the town where we live to enjoy a summer vacation. While I am a big proponent of hitting the road and leaving my troubles behind me, there are a few things that need to be done in advance of any travels in order for me to be able to truly relax and let go. Before I can put myself in vacation mode, I must first put my house in vacation mode. So, here is my pre-departure checklist which allows that laissez-faire feeling to remain long after my return home.
Clean, clean, and yes, clean
I know, there is already tons to do before you leave; how are you also supposed to find time to clean the house? You're stressed about getting packed on time, making sure all your travel arrangements are made, reservations are set – but trust me, there is nothing like coming back to a shiny, fresh home. Your future self will thank you for this gift.
Clean out the fridge/freezer – no one likes coming home to the smell of rotting food.
Take out the garbage & recycling – again, no smell is a good smell.
Leave cleaner in the toilets – do I have to repeat myself about smells?
Do all the laundry – clothes from the trip can go right in the basket when you get back. And since it will not be full, you can put off throwing a load in the wash for a while.
Put fresh sheets on the bed – after sleeping in strange places it's nice to not have to worry about what's under the covers.
Give yourself (and your insurance company) peace of mind
Whether you are taking off for a week or a month, it is worth eliminating all need for worry about the state of your home. If no one is going to be there, then no one is going to need to use anything that is plumbed or wired. And let's face it, there is nothing worse than coming home to an unnatural home disaster.
Unplug the small things – you're cleaning your house anyway right? So why don't you put that curling iron back in the bathroom drawer and wind that cord around the toaster. It's tidy and safety all in one go!
Lower your bills – turn the water heater to "vacation mode" and turn off your thermostat. No need to have these running while you are away; plus, that's a few more dollars allotted to the travel funds.
No pools in the house – turn off water valves to major appliances like your washing machine, dish washer, etc. Better yet, if you can, turn the water off completely via the main shut off valve.
Check the weather – if extreme weather is forecast for the time you are away, make sure your house and yard are ready to endure it.
Don't worry, be happy
We all know there are people in this world who feel the need to make giant messes and take things that don't belong to them. And where better to partake in these activities then in a house that is currently unoccupied? Oh wait, maybe someone is home. Never mind, let's try somewhere else.
Lights on, lights off? – I'm the kind of person that turns a light off every time I leave a room, but in this case, it may be worth leaving a couple on. Flood lights and interior lights on timers help your home maintain that lived in feel.
Business as usual – don't make it obvious that no one is home. People do not normally leave all the curtains closed up tight (unless you a serious recluse… or a vampire).
Mail call – check in with your local post office before you leave and have them hold your deliveries until you return. Or have someone you trust pick it up for you. Don't forget the paper.
Landscaping matters – if you are planning an extended trip, hire someone to come mow your lawn and water your plants. A neglected yard is a sure sign that no one is around.
What spare key? – if you are in the habit of leaving a key hidden around the outside of your home, please remove it and give it to a friend or neighbor in case of emergency.
All in all, common sense will go a long way in helping you prepare your home for vacancy. If there is something that could be a potential hazard, take care of it before you leave. The less you have to worry about, the more you get to enjoy your time away from the every day.